Earlier this year, after more than 40 years as a French-made watersports brand, BIC Sport merged with Tahe Outdoors to become TAHE, whose mission is to "develop products that are accessible, reliable, innovative, ecologically responsible and manufactured in France whenever possible."
BIC Sport, founded from the windsurf culture of the early 1980s, developed some of the category's best-selling windsurf boards. Tahe Outdoors has long built high-performance expedition kayaks for the northern European market. The TAHE brand merges the two and covers six sports, including SUP, kayaking, windsurfing, surfing, kitesurfing, and sailing. The brands include Core Kiteboarding, SIC, Zegul, HPDE, and Tahe. 
Under the agreement, BIC Sport's employees will be retained and its popular category names will carry forward (Techno windsurf boards, Borneo and Bilbao kayaks, Cross and Performer SUP series). Ace-Tec and Tough-Tec technologies will be incorporated under TAHE.
The company's North American Marketing and Product Manager, Jimmy Blakeney, who moved over from a long career at BIC, discussed the merger with SGB Executive.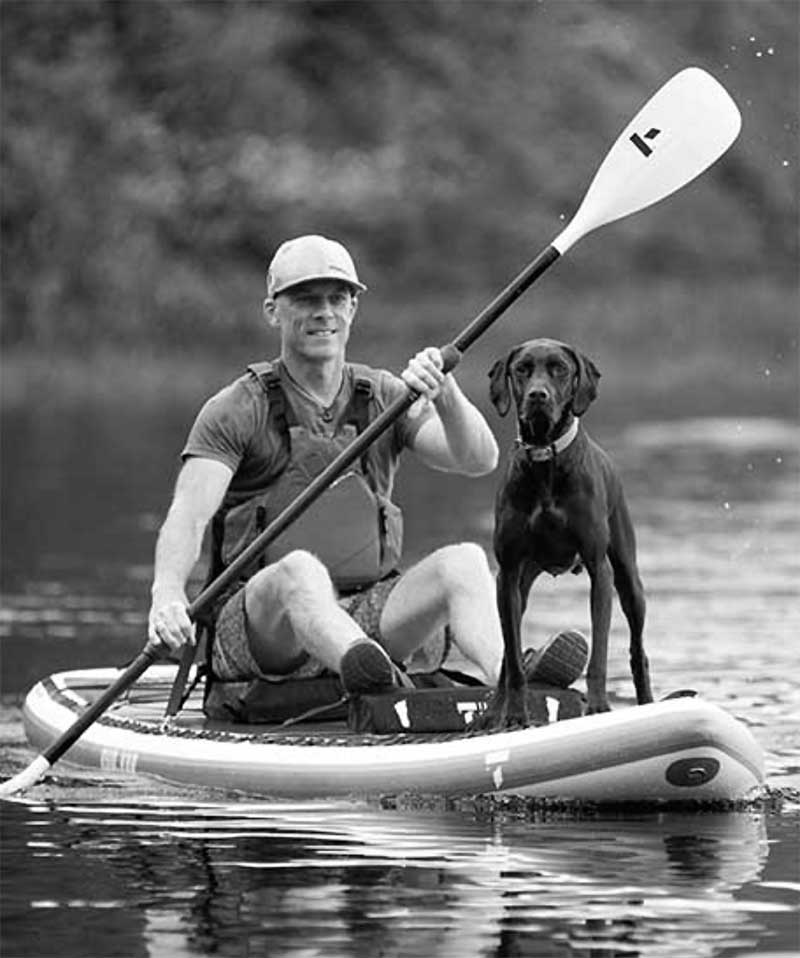 Can you tell us about the merger? BIC Sport was a legendary watersports brand for 40 years but always had its challenges from being associated with pens and lighters. The new TAHE brand inherits all the best of BIC Sport, including the employees, our Made in France construction technologies and best-selling products. We'll build on this foundation with the energy and excitement of a new brand with innovative, forward-looking products such as the SUP-YAK.
How's the merger going, launching TAHE as a new brand replacing BIC? It's gone better than we expected. We've retained our distribution network while redirecting all digital properties to TAHE, both of which have been very helpful in making sure customers find the new brand. It's also helpful that we are all the same people, management and capabilities, making it fairly seamless at the distribution level.
Do you think customers will be confused by the name change? We've done our best to communicate the brand story and information about the change, which we've highlighted in our communications and on the TAHE website.
How hard is it for a French company to gain traction in the U.S. market?  For BIC Sport, we had over 40 years of brand awareness, with the brand history going back to the early windsurfing days. Now with TAHE, we're carrying all that history and DNA forward with a fresh new brand. We certainly have our work cut out for us to elevate TAHE to the same level of awareness that BIC Sport enjoyed, but we're confident the product and our partners will make this happen. BIC Sport and now TAHE products have distribution in over 90 countries, so we are legitimately a global watersports brand.
What are some of the difficulties and hurdles to overcome? At the moment, getting products to market is our number one priority. It's a huge challenge, not just for us but across industries and globally. We're working hard to support our retail partners and end consumers by getting products to market as quickly as we possibly can.
How did the company get through the pandemic? Did it suffer any inventory issues? Absolutely, and those challenges continue today based on the latency of the COVID impact on supply chains and shipping/logistics issues, which are simultaneous to significant spikes in demand. Even labor shortages at home in the U.S. are impacting our ability to return to normal operations or support the growing volumes. Everything reported in the media on these issues has some relevance in our business.
Your brands cover six watersports. Which segment is growing the fastest? We see strong growth across all categories. Watersports are on fire right now at every level, and now the emerging foiling activity is incremental as well. We'll have to wait and see how much of this growth remains after the COVID dust settles, but we expect this will take a few years and hopefully at an increased baseline of active participants.
Which brand has the best technology story to tell? With TAHE, our Made in France technologies focusing on sustainable manufacturing are still our mainstay and remain unique in the market. SIC has the lightest weight, highest performance race, downwind and foil boards with Superfly construction. CORE continues to be the leader in premium kitesurfing products and offers enhanced performance and progression for all level riders.
How is the Foil market going with SIC? We see Foil as the next emerging segment across many of our categories. SUP and Surf Foil are pretty niche, but Wing Foil should be widely accessible and become mainstream, and our 2022 offer will reflect that trend. In sailing, following the recent America's Cup cycles, windsurf foiling is now an Olympic Class and TAHE is well-positioned with the Techno Wind Foil package as the feeder class for clubs and schools. In Core, we have also recently launched the SLC Foil program, which is selling well. We're focused on foil and will be adapting to the market as it develops in the future.
How does SIC Maui, your premium brand, differ from Tahe? SIC Maui was born in Hawaii and has performance DNA from the downwind and racing disciplines. This influences everything about the SIC brand and is now transferring over to the foil market. TAHE is a family-focused brand emphasizing products for recreational use. At the same time, TAHE continues the BIC Sport tradition of 'one design' racing for youth participants with our Techno 293 windsurf class, the largest windsurf class globally, and our Open Skiff sailing dinghy for kids.
Core focuses on kiteboarding. How is that market doing? As the name implies, Core is about as focused and dedicated to premium, high-performance kiting equipment as a brand could be. This pure focus is key to the success Core is experiencing for increasing global market share in the otherwise mature kite market. Our XR7 Kite, just released, is a groundbreaking product.
How does the high-end sea kayak market with Zegul compare growth-wise to TAHE's other watersports niches? Zegul is currently focused on the European/Scandanavian markets since the product is built and designed in Estonia. There's quite a bit of work to do across all our brands since the TAHE Outdoors Group was formed. Zegul is currently in focus for similar attention, with plans for outside of Europe in the future.
Photos courtesy TAHE