By Carly Terwilliger
Backcountry Is King
Skiers and snowboarders are being increasingly drawn to the backcountry, and snow sports companies are reacting accordingly. From backcountry-specific skis and even socks to more intuitive safety gear, today's powder enthusiasts can be both more comfortable and safer away from the resort.
Away from the groomers also means away from the ski patrol, prompting safety gear to get more user-friendly. "Certainly more people are in the backcountry and having to deal with avalanches," said Ortovox's Michael Collin. "But they don't walk in saying, I'm new to this, I need an Avabag. They say, I'm new to this, I need some education." The attitude seems to be that it's great that more people are getting out-of-bounds and exploring, but they need to understand that it's a different animal.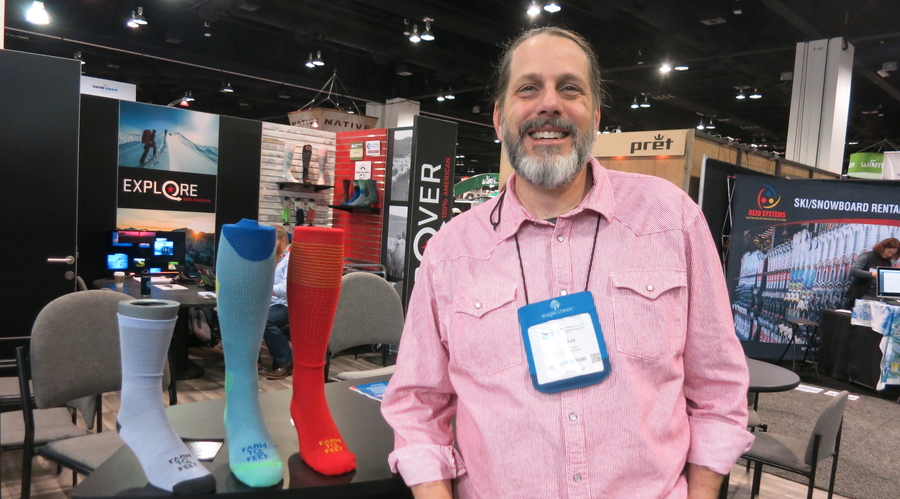 Mt. Airy, NC-based sock manufacturer Farm to Feet, which is owned by Nester Hosiery, is also tuned into the growing allure of untracked powder. "More people are headed out to the backcountry, and the conditions are slightly different," said Dave Petri, VP of Marketing, Nester Hosiery (pictured above). Just because you have a pair of ski socks doesn't mean they're going to perform perfectly away from the groomers. "People will spend hundreds of dollars on boots, but don't think about what goes between your expensive boots and your feet," he added.
Tech Stays Tech
The dream of lift-to-bar, and the siren song of luxury collaborations, are definitely being addressed by snow sports apparel companies, but others are hewing to the fact that in extreme conditions, you need things to work perfectly when you need them to work. "With other brands, sure, people are wearing more technical stuff in urban areas," said Collin. "But Ortovox is a mountaineering brand, it has an upper tier price point. People are buying it for a specific reason."
"You can go into a sporting goods store and find a shell that looks technical, by a 'technical' brand for 70 bucks, but it is a rain coat, not a technical shell that is breathable," observed Polartec CEO Gary Smith. "If you want to sell $400-plus truly technical shells you need a retail environment where staff can explain the difference." Echoing a sentiment from SIA Director of Research Kelly Davis, Smith emphasized the value of talking to a consumer in person about quality and specific needs.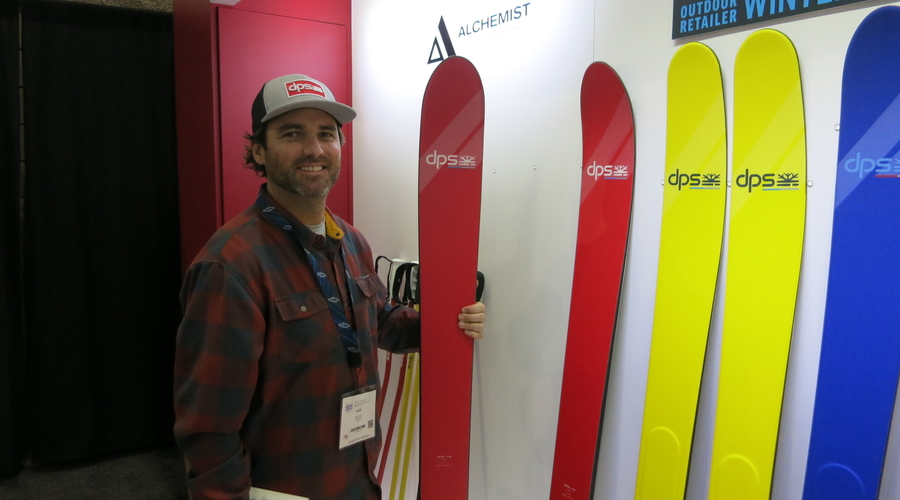 The emphasis on doing a specific thing well was what Public Relations Manager Alex Hunt (pictured above) was talking about at the DPS booth. The ski brand was founded in 2005 by professional skier and ski designer Stephan Drake and ski engineer Peter Turne, with a focus on advanced carbon technologies. With all the buzz about new materials, Hunt said the company was remaining committed to their carbon roots. "Lightweight is definitely a priority; it always was," he said, "But we're not constantly trying to reinvent the wheel." On the subject of growing backcountry popularity, he said simply, "Our roots are definitely in deep powder, and  lighter skis are just easier to take uphill with you."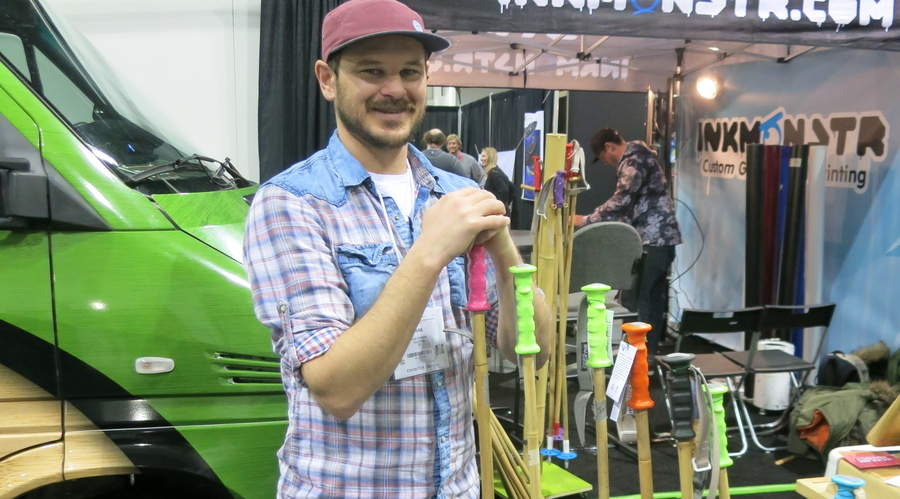 Suck It, Pandas
No, not really, but the guys over at Soul Poles are putting bamboo to good use with a line of customizable ski poles. "It's extremely renewable, so it contributes to a conversation about sustainability in our industry," said Soul Poles' Russ Crandell (pictured above). The company collaborates with Protect Our Winters (POW) and customizes its poles with laser engraving. "They're good for everyone," said Crandell, suggesting the while some companies are scaling up with space-age materials, there's still room in the industry for a quirky product with a founder, Bryon Friedman, who is identified on his business card as "Skier/Musician/Founder," all with equal weight.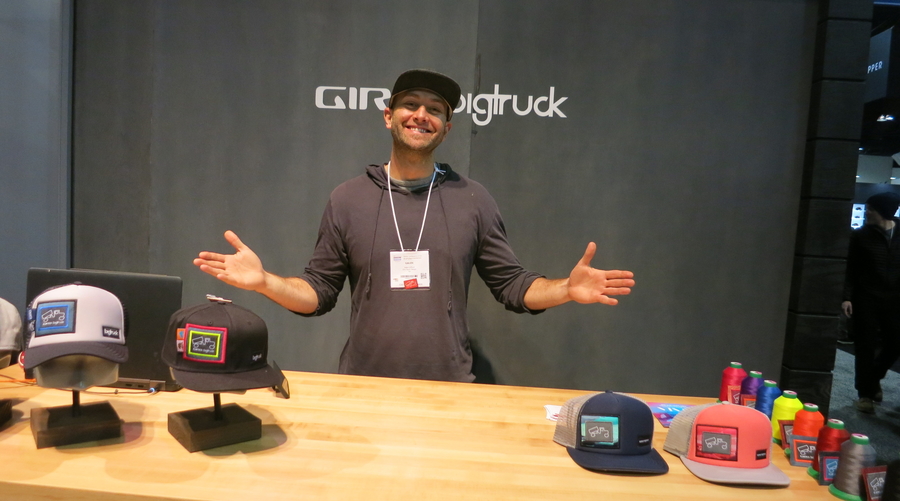 Surf's Up
Vista Outdoor subsidiary Giro was hosting BigTruck in its booth. The Truckee, CA-based lifestyle hat brand, collaborated with Giro on a new goggle and helmet collection. "Giro contacted us," said BigTruck President and CEO Galen Gifford (pictured above), who was manning the counter and showing the wares himself. "They loved the soul of the company." In a nod to the growing surf/snow love-fest in evidence at SIA, the goggle bag features scenery from Iceland … but also Costa Rica.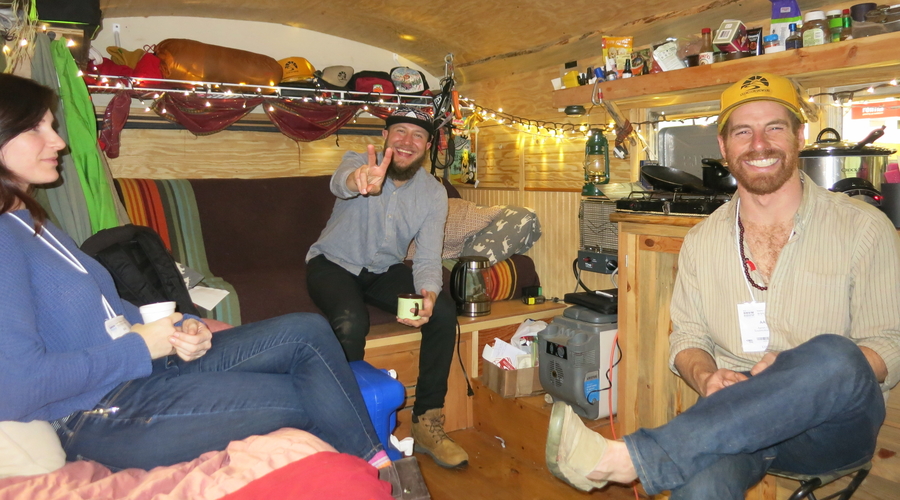 Which brings us to Missoula, MT-based board designers Soul Motion Snowsurf and its colorful band of merry men, led by Founder Aaron Lebowitz (pictured above, to the right) and parked in the Trail Gate area across from the beer. Lebowitz is happy to acknowledge that the sport has changed, the boards have changed and he himself has changed, which is what drives the design and culture at his company. "Two years ago, people were saying, snowboarding is dead! So we thought, okay, why is that happening?" According to the Soul Motion team, it wasn't that the sport had died; it just turned out that catering exclusively to 20-24 year olds was unsustainable. As he got older, he realized that "the best rider isn't the one who can do the most tricks," he said. "The best rider has presence and grace."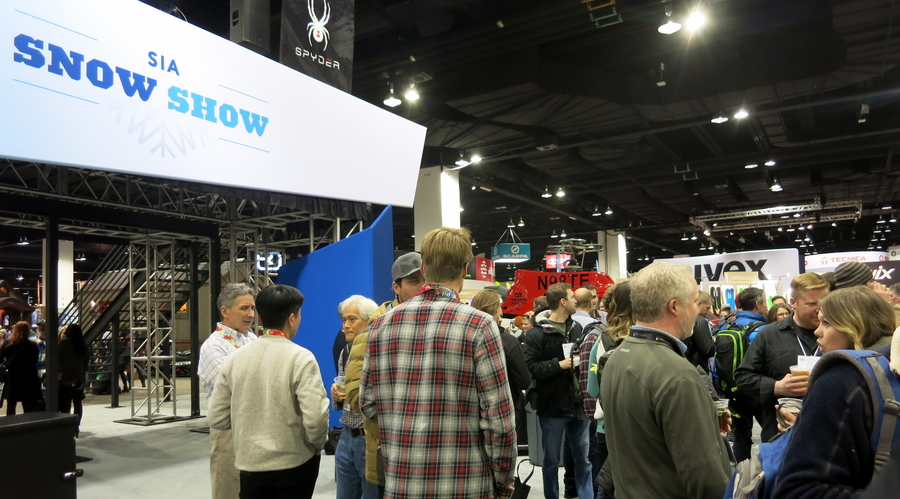 On that note, we'll leave the backcountry shredders and the snowsurfers to enjoy the SIA happy hour, chatting about van life, skiing in Japan, dogs, beer and what's to come on Day 2.
Photos by Carly Terwilliger