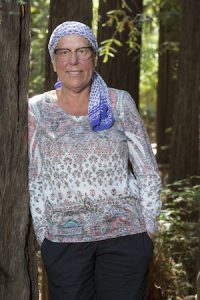 Camber Outdoors will honor Ann Krcik, co-founder of Camber Outdoors (formerly OIWC) and senior director of brand communications and outdoor exploration at The North Face, with its Lifetime Achievement Award. Krcik will be recognized at the 2018 Thought Leader Keynote at Outdoor Retailer + Snow Show in Denver, CO on January 27.
"Ann has been a long-standing mentor for men and women in the outdoor industry" said Deanne Buck, Camber Outdoors executive director. "Over twenty years ago, when she and Carolyn Cooke hosted a space for women to convene at trade shows, she sparked an organization that has springboarded from her core vision."
With more than 25 years in the outdoor industry, Krcik's influence and impact have been broad and significant.
"Ann has had a lasting impact on the entire industry through her ability to turn her awesome ideas into reality," said Sally McCoy, former CEO of CamelBak and long-time colleague of Ann, "but one of her boldest, important, and, frankly most fun, was co-founding OIWC (which is now Camber Outdoors)."
In her role at The North Face, Krcik oversees corporate communications across all products categories, athletes and corporate issues. She also leads The North Face advocacy programs including the Explore Fund which provides grants to organizations that connect young people to the outdoors in meaningful ways. Ann is a board member of the Conservation Alliance and co-founder of the Outdoor Industries Women's Coalition. She has also received the "Pioneering Women Award," "OIA Advocacy Award" and American Himalayan Foundation "AHF Star Award."