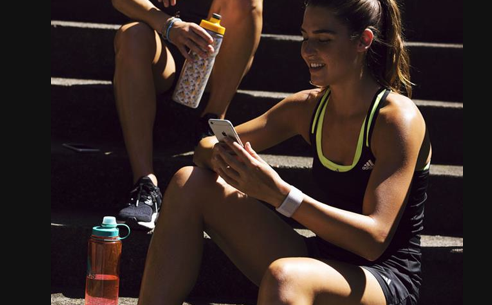 Adidas announced an update to its FIT SMART fitness band, adding activity tracking for the first time.
"Embodying a healthier lifestyle is about more than just excelling in the gym," says Stacey Burr, GM – Adidas Digital Sports. "It's making sure you avoid extended periods of inactivity and keep moving throughout the day. By combining the insights of heart rate monitoring and activity tracking, FIT SMART now brings more insight about your body and lifestyle resulting in a more effective and rewarding journey towards the results you want."
The new activity tracking feature is delivered with a free update to the Adidas Train & Run app. In the app users can set your daily activity goals for steps, distance and calories and, for their workouts with FIT SMART, users can choose a weekly goal or select a training plan. The weekly goal feature is ideal for those who like to mix it up without the regimen of a disciplined training schedule as it provides motivation and simple guidance for users to maintain an optimum balance of effort. The free training plans, built in partnership with Adidas coaches, provides more structure and real-time guidance towards more specific goals.
A Youtube demonstration video is here.
A key aspect of any fitness program is motivation. The addition of activity tracking to the FIT SMART makes it an all-day fitness companionproviding constant motivation, keeping users informed of progress outside of workouts. As a result, consumers are more committed and able to reap the rewards of smarter training. Whether goals are lofty or modest, the FIT SMART is the tool to make them a reality.
"The data you get from activity tracking brings to light behaviors and habits, good and bad, that you may not have noticed." said Brett Bartholomew, Performance Coach at EXOS. "With this new knowledge, you'll better understand when to push harder and, just as important, when to back off intensity. The result: a greater ability to push your potential."