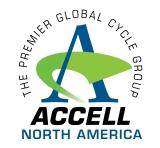 Accell North America (ANA) has integrated Seattle Bike Supply and Raleigh America into a new ANA platform intended to create a powerful group of independent brands that work together to bring ease, flexibility and profitability to the North American Independent Bicycle Dealer (IBD) network.

The investments enable both Seattle Bike Supply (SBS) and Raleigh America to offer dealers a one-stop shop for bikes and parts through an Integrated IT solution that provides all dealers a sizable increase in parts and accessories SKUS and services. Additionally, a brand-new business-to-business (B2B) website and three new automated warehouses located in Ohio, California and Washington, are included in the business platform roll out. The B2B website services dealers of Raleigh, Lapierre and Diamondback, in addition to SBS. Additionally, all ANA brands are now located one on campus in Kent, Wash.
The independent companies comprising Accell North America include:



Raleigh America (Raleigh and Diamondback)

Seattle Bike Supply (Redline, Torker, XLC)

Lapierre North America
"These investments will significantly increase our combined level of services for ANA companies to support dealer profitability and ease of doing business in 2014," said Steve Meineke, CEO of ANA. "Our new business platform unites our independent brands and companies and enables our team to provide improved ease and efficiency in the order process, stronger fill rates and shipping and payment info. This is in addition to unmatched sales program incentives, dating and terms, improved forecasting and better inventory availability.
"All of which underscore our unwavering commitment to being the most profitable, friendly and flexible partner to our customers – period."
Accell North America is is the North American business entity of Accell Group, NV, Europe's leading bicycle company. Accell North America, located in Kent, Wash., is completely focused on growing the IDB channel through excellence in customer service, product innovation, profitability and brand marketing on the regional and national level.