In an extensive interview with SGB Executive, Steve Lawrence, EVP and chief merchandising officer, Academy Sports + Outdoors, discussed how the many drivers of the Houston-based retailer's 16.1 percent same-store gain in 2020 will support growth in 2021 and beyond.
Those drivers include the newfound popularity of many outdoor and fitness activities discovered during the pandemic, changes in shopping behavior in part due to the pandemic, and internal restructuring efforts over the last few years under the direvtion of Ken Hicks, Academy's chairman, president and CEO.
Last year culminated with fourth-quarter results that saw earnings jump four-fold, well above Wall Street's targets. Same-store sales climbed 16.1 percent, led by strong demand in the Outdoor and Sports & Recreation categories and a return to strong positive growth in apparel. Investors have recently been rewarding Academy's performance. Academy's stock is now trading around $31, up from the October 2020's IPO price of $13.
Lawrence joined Academy in February 2019 after holding top merchant roles at Stages Stores and JC Penney. He was most recently CEO at the women's boutique chain Francesca's.
What drove the fourth-quarter rebound in apparel? We think it was a couple of things. Number one, it was a very disruptive back-to-school season, which significantly influences our apparel business. Probably even more importantly, we were up against the Astros going to the World Series in the year-ago third quarter. We also made a conscious effort this year in our buys. 
One of the things that happened during the pandemic a year ago is retail shut down and stopped taking in goods. The vendors didn't know what to do, so they pushed goods from Q1 into Q2, pushing Q2 into Q3, and they weren't making what they had planned to make for Q4. But because we stayed open, we saw what was happening with the business and thought when things opened up, business would be pretty good. So we placed aggressive buys in seasonal apparel, outerwear, fleece, etc. And that paid dividends for us in Q4 as we saw our apparel business rebound.
Do you see apparel's growth continuing? Yes, we have big negative comps we're up against for at least a month and a half in the last year. So that should be a tailwind. But this customer has moved to a more active, healthier lifestyle. I don't think that's going away. Customers need apparel, equipment and things that help them pursue those passions. We don't see that slowing down. We saw apparel and footwear rebound in the back half of last year. Our inventories are cleaner than they ever have been, so we're flowing newness there. We feel bullish about those categories.
What else stood out among categories? Many of the outdoor categories that surged earlier last year, like fishing, hunting and camping, continued to do well through Q4. We continue to chase ammo and firearms inventory as those categories remain inventory challenged. The best performing business was Sports & Rec, where we have different categories like Game Room, including pool tables, foosball tables and ping pong tables. Outdoor Living, which includes patio heaters, patio sets and the like, was strong. Our outdoor grilling and cooking business was strong. And then the home exercise trend continued, and that falls into Sports & Rec. We've been chasing fitness all year, and because we ran out of stock, we were able to reset the category to focus on the connected fitness trend in Q4. In normal times, it would have taken us a long time to turn through the old to get to the new. Fitness got even better as we moved into holiday because the demand was still there, and we had the new connected fitness items that people wanted.
On Academy's quarterly call, you cited trends impacting how sales flowed that could be beneficial in the future. Can you elaborate? One that we talked about was how customers were shopping earlier in the cycle. Once we reset the floor with bicycles, fitness equipment or other hot categories, they were buying immediately. That allowed us not to be very promotional, which helps margins, and so that's something that we saw happen in Q4 that we think will continue forward. We're not jumping back into the promotionality that used to exist. We're not going to be the leader on that. We're going to wait and see what the market does there. That should be a good thing from a margin perspective.
We also saw people shop differently during the week. In the past, weekends were busy and weekdays slower. We saw an evening out of those days. That impacts how we staff and how we market, so we've made changes there.
Finally, we talked about the customer's rapid adoption of BOPIS (buy online, pick-up in-store) and other fulfillment options. We carry big bulky categories that are very difficult or expensive to ship. With curbside BOPIS and ship-to-store, customers love the ability to look online and pick up at their local store and not have to drive all over town. They reserve online, and we bring it to their car. How quickly that was adopted has been a big unlock for us.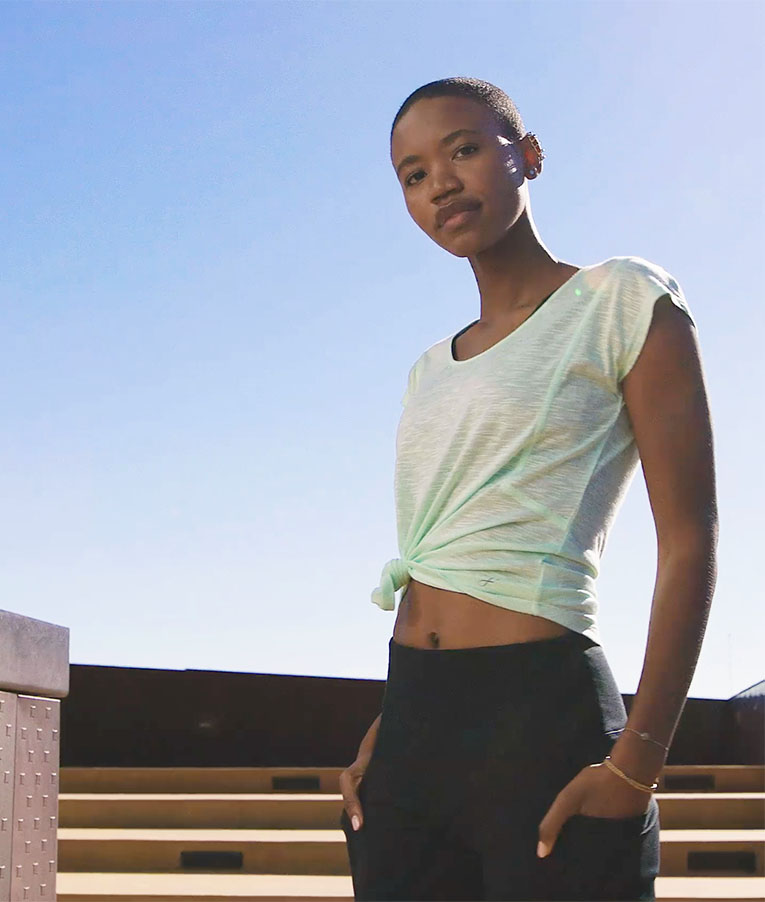 Gross margins in the fourth quarter were up 420 basis points year-over-year. What drove the improvement? One of the things we want to make sure people understand is that we saw sales and margins start to improve pre-COVID. The business started to turn in fall 2019, and we've had six consecutive quarters of comp sales growth. We think many of the things that helped turn it around was the work we had done, and that was being better operators. 
We've talked about power merchandising and all the new planning and allocation disciplines we put in place. We're better at allocating and pre-planning our buys, flowing inventory into stores, taking markdowns on a more timely basis, etc. And all of those things ultimately lead to a margin tailwind. We see that as a baseline tailwind we have in the business from a margin perspective. And when you layer on top of that going into a holiday where you don't have to be as promotional because of strong demand, that ultimately drove higher AURs (average unit retails) and higher margins. And it should be a tailwind into 2021 because we have less clearance than we would normally clear in those first couple of months of the year.
Marketing has also been reimagined. Can you discuss that? Traditionally, our marketing budget was rooted in traditional media broadcast and newsprint, where you put it out there to a broad customer. It's not very targeted and not the most effective, efficient way to market. So we've worked to combine our databases between the dot.com site and our stores. Our credit card has been another way to get more customers into our database. We're looking at that now holistically as our customer file builds, and we're increasing the amount of money that we're spending on more targeted digital marketing and more personalized content that gets better reactions from the customer. And we're dialing back the amount of money that we traditionally spent on marketing to have a more efficient spend and better interaction with customers. We made good progress on that in 2020, but it's a journey for us, and we're early innings.
Academy recently announced two new store brands. Can you update us on your private label strategy? We're about 20 percent private label. We've talked about a goal of maybe 25 percent, but we're not going to set an arbitrary number and try to get our private label to some unnatural level. At our core, we're a house of brands. People come to us because we carry some of the best brands globally and have them at the best prices. Then we supplement that with our private brands.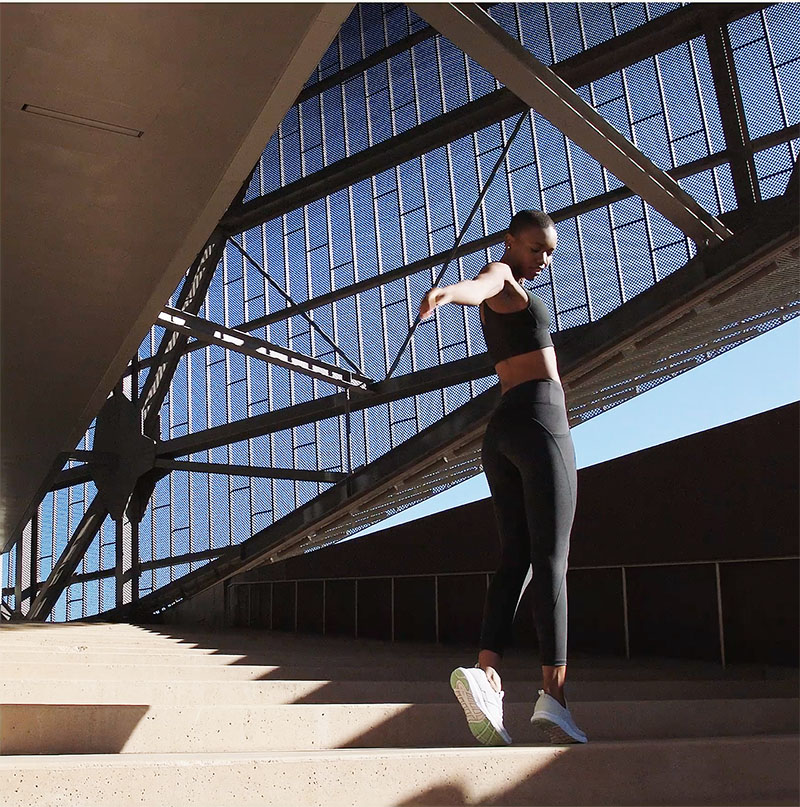 How we think about the private brand is how does it augment or supplement our national brand assortment. If you take a category like active workout gear, we have Nike, Adidas and Under Armour. We also have an opening price point brand, BCG, which is more commoditized. And if you look at a short, BCG maybe $9.99 and Nike maybe $24.99. There's room in between, and one of the new brands we launched, Freely, shown above, is meant to be a fusion of comfort and activewear. It's something you can wear to workout for low-impact aerobics, yoga, Pilates, etc., but it can also be worn as streetwear. It has a very soft hand, better technical fabric, etc. The price point is meant to bridge between our opening price point BCG and Nike, Under Armour, and Adidas. 
In outdoor, we have Magellan Outdoor, Columbia and The North Face. So while we may have a Columbia fishing shirt at maybe $40, we're selling our Magellan, shown below and lead photo, for $24.99. Once again, there's some room in between the two brands, so we've launched a new layer called Magellan Pro that bridges the gap between our premium outdoor brands and our opening price point. We've also extended that approach into camping and other categories.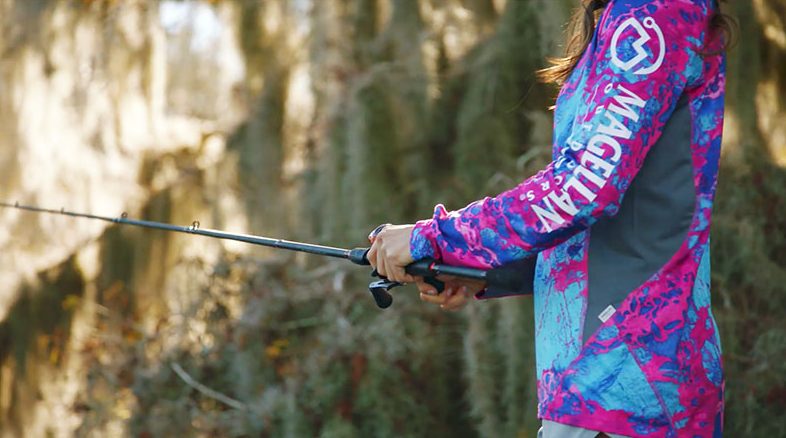 Academy is forecasting comparable sales to range from up 2 percent to down 2 percent. What gives you confidence that Academy will be able to potentially exceed 2020's gains? We saw a considerable spike in exercise equipment in late March last year as people starting building their home gyms with gyms closed. Once we got past March, our floors were empty. You could not find a dumbbell in our store. You also couldn't find bikes for many months, and as soon as they came in, they would sell. We're building inventory back, and by the end of Q1, we're going to be in a great inventory position in every category, except maybe ammo. Where last year our floors were empty, we're going to have inventory, and so far, we haven't seen demand slow down on those categories. We think that could be a tailwind for us to be back in stock in those categories. We believe that should be a win for us and help us comp the comps.
What are the prospects of a revival in team sports and licensed? Team sports is primed for growth. After they canceled all the games early last year, that business dropped dead. We took markdowns and managed the inventory, but teams are playing this year, and that business is opening up. We expect that to be a tailwind for us and normalize. The one business that's probably going to take longer to rebound is the licensed business. We find that business is tied to people either watching the event live or going to a bar, party or a place to watch with friends. Until that happens, we think that business will continue to be suppressed. We've seen it improve, but it's not back to where it was in 2019. It most likely will bly be in the fall when that happens.
Nike made headlines for narrowing the number of wholesale accounts it works with. Adidas and Under Armour are also consolidating accounts. How does that trend affect Academy? Our relationships with brands across the board —not just Nike, Under Armour and Adidas but The North Face, Columbia, Yeti, etc.—are as good as they've ever been. They're good partners with us. We're good partners with them. 
When retailers shut down and stopped taking inventory during the pandemic, we kept flowing goods, and that offered vendors a lifeline. That helped strengthen our relationships, and vendors remember. When you look at what's happening in the marketplace as vendors are pulling back, we haven't had that happen to us, and we see it as an opportunity. If you look at some of the names Nike isn't going to be available to, we have stores in those geographies. Some customers in those areas will gravitate online, but many of them will want to come into a store, which will benefit us.
You've spent your career at department stores focused on apparel. What do you think about sporting goods retailing? What I like about it is our diversified portfolio. One of the problems with department stores is they became enamored with the apparel business and shrunk the home business and other categories. 
If you look at our business, traditionally it's about 50/50 soft and hard goods. If you go back a couple of years, we had more want-based demand driving the apparel and footwear business. The past year has been more need-based. Customers needed to entertain their family; they needed to work out, create an environment where they could socially distance themselves, etc. Consequently, the hard goods side of the business has expanded. It's fun to work for a retailer with that balance in its assortment, and it gives us the ability to pivot from one to the other. There are corollaries in any retail business, but it's a fun business. I like the sporting goods business. I like the outdoor business. There are different nuances to it, but it's that diversity of assortment that is part of our secret sauce.
How would you sum up Academy's opportunity in the future? 2020 was a transformative year for Academy from the business results we had, going public and reducing debt. But as you look forward, we have opportunities to drive business in 2021. Dot.com is a huge tailwind for many years to come. We have only 10 percent penetration, but our competitors are at a much higher percent penetration, which should help fuel our growth, and we've got a roadmap to get there. And then you think about brick & mortar, many retailers are closing stores, but we're only in 16 states. There's a huge opportunity to expand in other markets, doing it very thoughtfully and very methodically. There are also opportunities in some of our newer markets to expand our footprint. It's fun to be at a retailer that has that much opportunity.
Photos courtesy Academy Sports + Outdoors, Freely and Magellan collections