By Thomas J. Ryan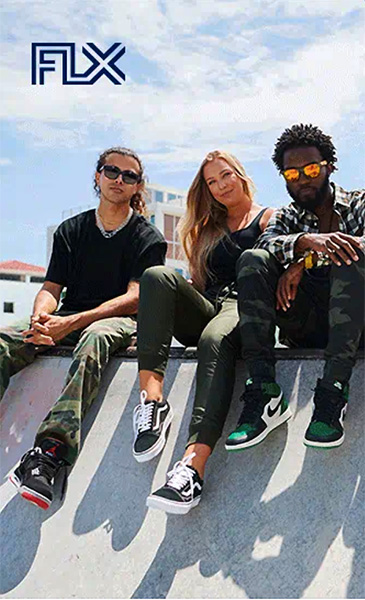 At a media event in New York City, Foot Locker Inc. unveiled its new FLX loyalty program that will launch to consumers in a "few weeks." The program will allow members to earn points across all Foot Locker banners.
At the event, Jed Berger, chief marketing officer, Foot Locker, said the company is 45 years old and has acquired a number of businesses over the years, citing Foot Action, Champs Sports and Eastbay. But all the banners have "sort of been split by walls" with Foot Action, Champs Sports and Eastbay as well as Foot Locker, Lady Foot Locker and Kids Foot Locker all operating separate loyalty programs.
The separate approaches came even though Foot Locker knew its best customers shop across all banners. Said Berger, "We haven't really done anything intentionally to create consumer benefit to encourage that behavior in celebrating all of us, until now."
Berger said Foot Locker will retire all the separate banner rewards programs and roll them into the FLX loyalty program. Berger said, "It's really our declaration to our consumer that we are, in fact, one family, and we're going to create incredible consumer benefits that keep our consumers within our family and encourage more of them to shop across all banners."
FLX is free to join and members receive free shipping across all banners with no minimum spend, Hope Tannenbaum, senior director of CRM, loyalty and market research at Foot Locker said at the event.
Customers earn Xpoints for shopping across Foot Locker's family of banners and can redeem those points in one central rewards center.
Members earn 100 points for every $1 spent on merchandise across banners. Members also earn points for online activities such as taking surveys, telling Foot Locker about their shopping preferences and connecting their social accounts to Foot Lockers. Said Tannenbaum, "And that's just the beginning. There will be new ways on an ongoing basis to earn points from these online activities."
The program has three levels: X1, X2 and X3. Members join at X1, move to X2 once they reach 30,000 points and then reach X3 once they accumulate over 50,000 points. Current members of banner programs will migrate to FLX. Members will earn a bonus of 2,000 points for migrating from X1 to X2 and 3,000 for moving up from X2 to X3.
Accumulated points are viewable at a central rewards center accessible through each banners' app or website. The points can be redeemed for "head starts" on sneaker releases, banner gift cards, donations to causes, or chances to enter sweepstakes to win prizes such as autographed shoes and donations to causes.
Redeemed offerings may include "unique products" with a Biggy Smallz Funko toy figurine collectibles as well as "exclusive experiences," such as tickets to NBA basketball games. Foot Locker officials have talked about the opportunity to offer chances to attend a pre-concert party at NYC33, Foot Locker's event space on 33rd Street inNew York City or invitations to a photoshoot with NBA stars.
The prior banner-specific programs were heavily coupon-driven and FLX is emphasizing experiential benefits over transactional ones. Tannenbaum told SGB Executive, "Experiential benefits are really what the customer is looking for, and we've heard that from our customers. So, we're creating this platform to be able to deliver that to them."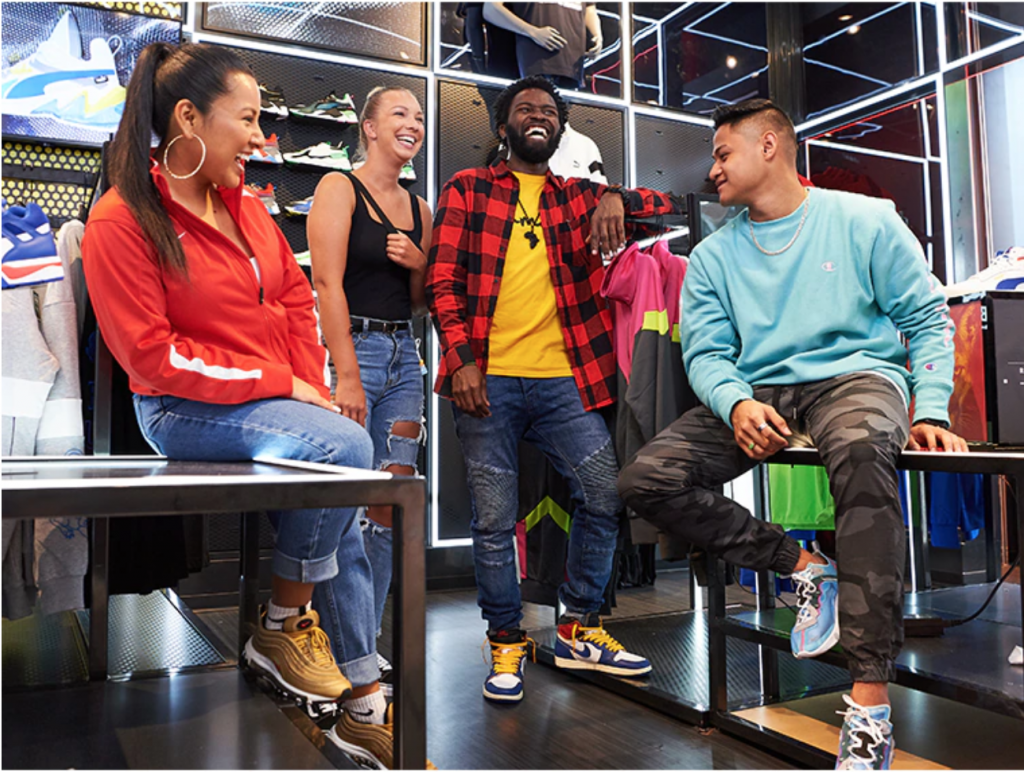 The program has been in test mode in Lady Foot Locker in the U.S. and Foot Locker Netherlands. In the third quarter, the program went live in the U.K. and France.
On its third-quarter conference call, Richard Johnson, Foot Locker's chairman, president and CEO,  said the tests of FLX in Lady Foot Locker in the U.S. and Foot Locker Netherlands have been "well-received." In both regions, Foot Locker is seeing higher average order value and positive sentiment around the program's benefits.
The initial learnings from the program have varied, however, in part because the U.S. already had a membership program and FLX will represent the inaugural loyalty program for Foot Locker's European business.
With the Lady Foot Locker test, Johnson has seen an "uptick" in spend with FLX from consumers who were already part of the Lady Foot Locker VIP loyalty program. Enrollment rates and other use metrics are stronger with FLX versus the former program. Said Johnson. "We've seen them be more engaged with Lady Foot Locker as a brand. We've seen them accumulate points and use them to get the benefits that are meaningful to them. So, there has been a lot of good positive news there
In Europe, men have been less patient accumulating rewards for bigger redemption prizes than women. Johnson attributed that in part to the banners having their first loyalty membership program. Said Johnson, "She is more willing to wait for something that's really exceptional for her. He wants to make sure that he spends them really quickly. It's like a dollar that's burning a hole in his pocket. There are two different learnings, and they are coming together nicely."
Johnson also talked up the potential to bring the retailer's six strategic investments—Carbon38, Pensole Footwear Design Academy, Goat, Rockets of Awesome, Super Heroic and NTWRK—into the FLX program. Said Johnson, "As our team continues to metabolize them and think about how they can work with them, we'll continue to see more great opportunities with these six investments."
Tom Caporaso, CEO of Clarus Commerce, a loyalty program provider, believes Foot Locker is making a smart move by extending the FLX loyalty program across all its umbrella brands to make it easier for shoppers and families to earn rewards.
Caporaso told SGB Executive, "Unlike traditional programs that offer points for purchases, Foot Locker is catering to their consumers' lifestyles that demand convenience and versatility, offering free shipping and exclusive access to shoe releases. And, when perks go beyond expected price discounts and cashback, shoppers will be persuaded to engage with the brand on a regular basis without thinking twice about price tags from nearby competitors."
Going forward, Caporaso believes Foot Locker has a huge opportunity to expand their loyalty program or use it as a stepping stone to test other recurring models, such as a premium loyalty program or other additional offerings. Said Caporaso, "For now, Foot Locker is clearly listening to its customers for seamless selection, delivery and instant gratification at every touchpoint in the shopping experience. By meeting this demand with a flexible program, Foot Locker will drive higher customer engagement and long-term loyalty that will be passed down from one family member to the next."
Photos courtesy Foot Locker